Super Retina XDR Display using OLED technology is found on the iPhone 14 Pro, which has a pixel density of 460 and a resolution of 2,556 by 1,179.
It's an always-on display with ProMotion technology that has adaptive refresh rates up to 120Hz, and a contrast ratio of 2,000,000:1. The iPhone also has a max brightness of 1,000 nits, 1,600 brightness for HDR content, and it can push to 2,000 nits peak brightness outdoors.
The Galaxy S23 display is 6.1 inches, with a resolution of 2,340 by 1,080 pixels and a density of 425 pixels per inch. Unlike the iPhone 14 Pro, Samsung uses Dynamic AMOLED 2X technology in the Galaxy S23 display. But it similarly offers refresh rates at up to 120Hz, and a touch sampling rate of 240Hz in Game Mode.
As a type of OLED display, AMOLED technology offers a few advantages, such as consuming less power and showing more vibrant colors. These displays are also thinner and more flexible, as evident in Samsung's folding smartphones.
However, AMOLED technology tends to be more expensive than OLED and is less visible in direct sunlight. The iPhone's display can reach 2,000 nits in outdoor settings, giving it an advantage over the Galaxy S23.
Galaxy S23 versus iPhone 14 Pro – Processor
The second-generation Qualcomm Snapdragon 8 powers the Galaxy S23 with four performance cores and three efficiency cores. It also has an Adreno GPU with hardware-accelerated ray tracing for gaming for better lighting, shadows, and illumination effects.
It offers improvements in artificial intelligence, such as up to 4.35x faster performance than the previous generation.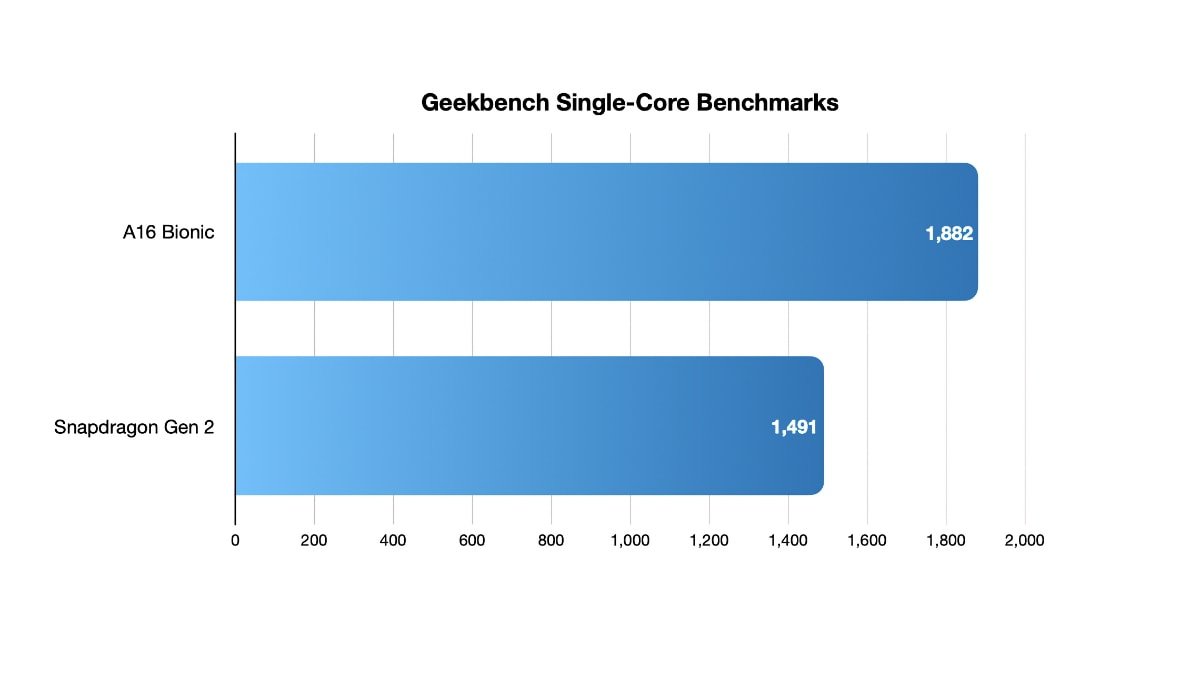 For instance, Qualcomm built its first camera processor with artificial intelligence into the chip. Its image signal processor supports 8K video capture in 10-bit HDR and photo capture at up to 200 megapixels.
Similar to Apple's computational photography process, the Snapdragon 8 has Real-Time Semantic Segmentation. During processing, the chip can independently apply different noise reduction, sharpening, and color correction levels in up to eight photo layers.
Qualcomm has also added Bokeh Engine 2 to the new processor, which can adjust the blurred background's quality, intensity, and shape in portrait-style images and videos. Other enhancements in the photography features include greater local tone mapping, improved image stabilization, and updated auto exposure, compared to the Snapdragon 8 Gen 1.
On Apple's side, an A16 Bionic chip powers the iPhone 14 Pro, and the CPU of six cores has four for efficiency and two for performance. It also has a 16-core Neural Engine capable of nearly 17 trillion operations per second, and a 5-core GPU.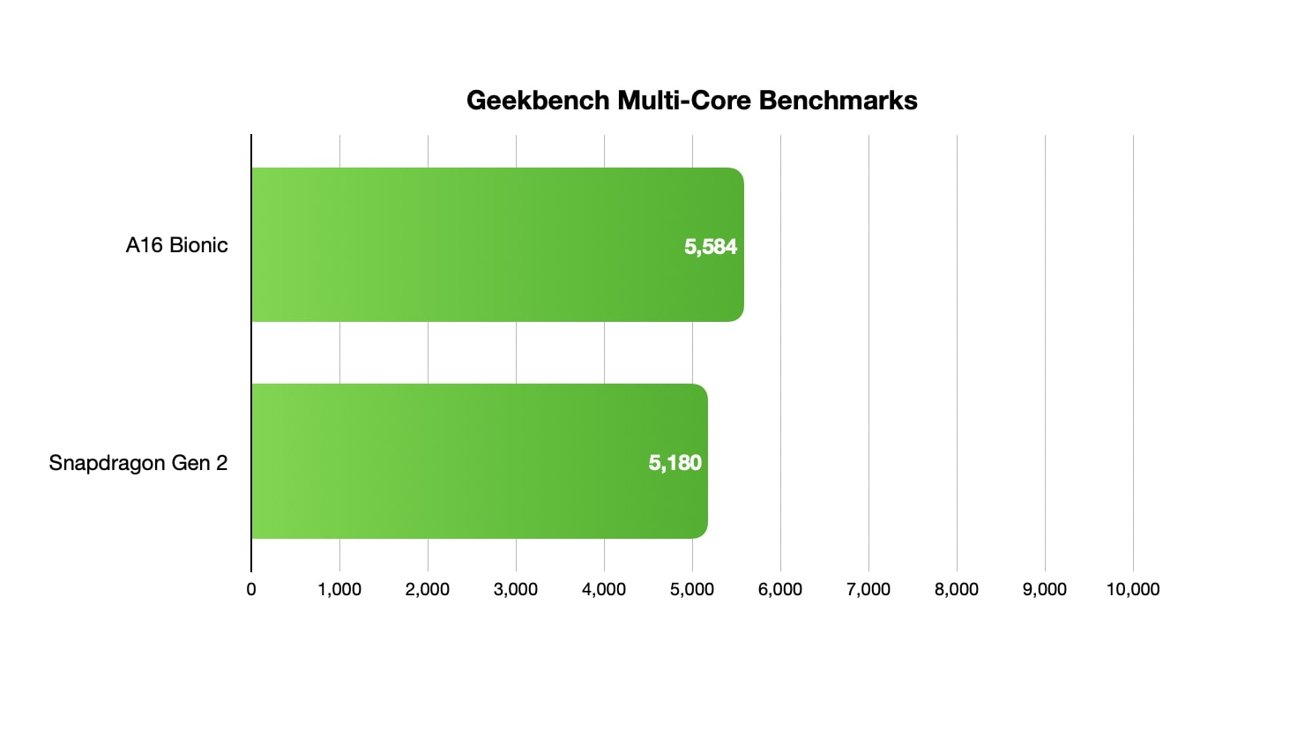 Benchmarks for A16 Bionic on an iPhone 14 Pro show a single-core score of 1,882 and a multi-core score of 5,584.
Benchmarks for the Galaxy S23 have yet to be released, but CPU scores in December for the Snapdragon 8 Gen 2 showed that it managed 1,491 in single-core performance and 5,180 for multi-core performance.
Those scores bring it into the vicinity of the A16 Bionic, although real-world usage will provide a better idea of how it fares against Apple's optimized chip design for its software and hardware.
Geekbench shows a Metal score of 15,386 for the A16 Bionic chip found inside the iPhone 14 Pro. Although the Galaxy S23 doesn't have GPU scores yet, some benchmarks show it exceeding the A16 in some charts, but falling behind in others. For example, while it doesn't list numbers, the chart for 3DMark Wild Life Extreme Unlimited shows the two chips pretty close in score.
Galaxy S23 versus iPhone 14 Pro – Battery
With a 3,200mAh battery, the iPhone 14 Pro can run up to 23 hours of video playback and up to 20 hours of streamed video. It can deliver up to 75 hours of audio playback, however.
The Galaxy S23's battery has a 3,900mAh capacity, and its battery life will be known once reviewers test it.
Although Samsung's smartphone has a higher capacity than the iPhone 14 Pro, it may not necessarily beat it based on specs alone. Apple's A-series of processors tend to perform better than Snapdragon, including power efficiency.
Apple claims that the iPhone 14 Pro can reach up to a 50% battery charge in 30 minutes when using a 20W or higher charging adapter. Samsung lists similar charging for the Galaxy S23, except it requires a 25W charger to meet 50% battery in 30 minutes.
Cables are another difference, as the Galaxy S23 has a USB-C port, and the iPhone 14 Pro has a Lightning port.
With MagSafe on the iPhone 14 and Qi on the Galaxy S23, both smartphones have the option of wireless charging. MagSafe, at 15W of power, can charge an iPhone 14 Pro in roughly two hours.
Fast-charging time isn't known yet for the Galaxy S23, but Samsung's Fast Charging 2.0 reaches around the same time, as seen in some reviews.
Galaxy S23 versus iPhone 14 Pro – Cameras
The Galaxy S23's primary camera system consists of a 50-megapixel wide camera with f/1.8 aperture, a 12-megapixel ultra-wide lens with f/2.2 aperture, and a 10-megapixel telephoto lens with f/2.4 aperture and 3x optical zoom. Its front camera boasts a 12-megapixel lens with an f/2.2 aperture.
Apple made several updates to the camera system when it debuted the iPhone 14 Pro. For example, a new Photonic Engine significantly improves low-light performance in photos across all the cameras.
It applies the Deep Fusion computational photography earlier in the imaging process to preserve textures and details and offers improved color. The iPhone 14 Pro also introduces a 48MP 24mm Main camera with a quad-pixel sensor and f/1.78 aperture.
For most photos, the quad-pixel sensor combines every four pixels into one sizeable quad-pixel equivalent to 2.44 microns, resulting in better low-light capture. The sensor also benefits pro workflows, optimizing for detail in ProRAW.
The quad-pixel sensor also allows for a 2x Telephoto option on the 48MP camera, which employs the center 12 megapixels of the sensor to produce 4K films and full-resolution images without using digital zoom.
The new 12MP Ultra Wide camera on the iPhone 14 Pro has 1.4-micron pixels, improving macro photography capabilities by producing crisper, more detailed photographs. The aperture of the camera is f/2.2 with a 120-degree field of view.
The 12MP Telephoto camera on the iPhone 14 Pro has an f/2.8 aperture and a 3x optical zoom range. Additionally, a new TrueDepth camera system on the front sports an f/1.9 aperture for improved low-light selfie and video performance and brings autofocus in the front camera for the first time.
Galaxy S23 versus iPhone 14 Pro – Pricing
Pricing for the iPhone 14 Pro starts at $999 with 128GB of storage with upgrade options for 256GB at $1,099, 512GB for $1,299, and 1TB for $1,499 at the highest tier.
Meanwhile, the Galaxy S23 starts with 128GB of storage at $799 with an upgrade to 256GB for $859, which is less expensive than Apple's upgrade options.
The iPhone 14 Pro comes in Silver, Space Black, Gold, and Deep Purple. On the Samsung side, the S23 color options are Green, Lavender, Phantom Black, and Cream.
While supplies last, Samsung also offers Graphite and Lime colors for the handset. Another limited-time feature is a free upgrade to 256GB of storage when customers preorder the device.
Galaxy S23 versus iPhone 14 Pro – What to Buy
The larger 50MP sensor on the Galaxy S23 may tempt some mobile photographers. The architecture on the chip powers real-time Semantic Segmentation to recognize and optimize each aspect within a frame — like faces, hair, clothes, and backgrounds — during the capturing process.
However, another factor to consider is the iPhone 14 Pro, with more storage options for high-quality photos and videos. Higher storage is mainly for people who like to keep their files offline on their devices instead of offloading them to the cloud.
Processing on each device is pretty similar, and the Galaxy S23 doesn't fall too far behind the iPhone 14 Pro. But, of course, Apple optimizes its entire stack of hardware, software, and chips to work efficiently together.
The Galaxy S23 is a worthy opponent, and those who are platform-agnostic and don't make a fuss about the operating system may consider it a worthwhile purchase. It's also more affordable than the iPhone 14 Pro at $799, although wireless carrier incentives are offering deals on Apple's iPhone.
Buyers can preorder the Galaxy S23 now, and it starts shipping on February 17.